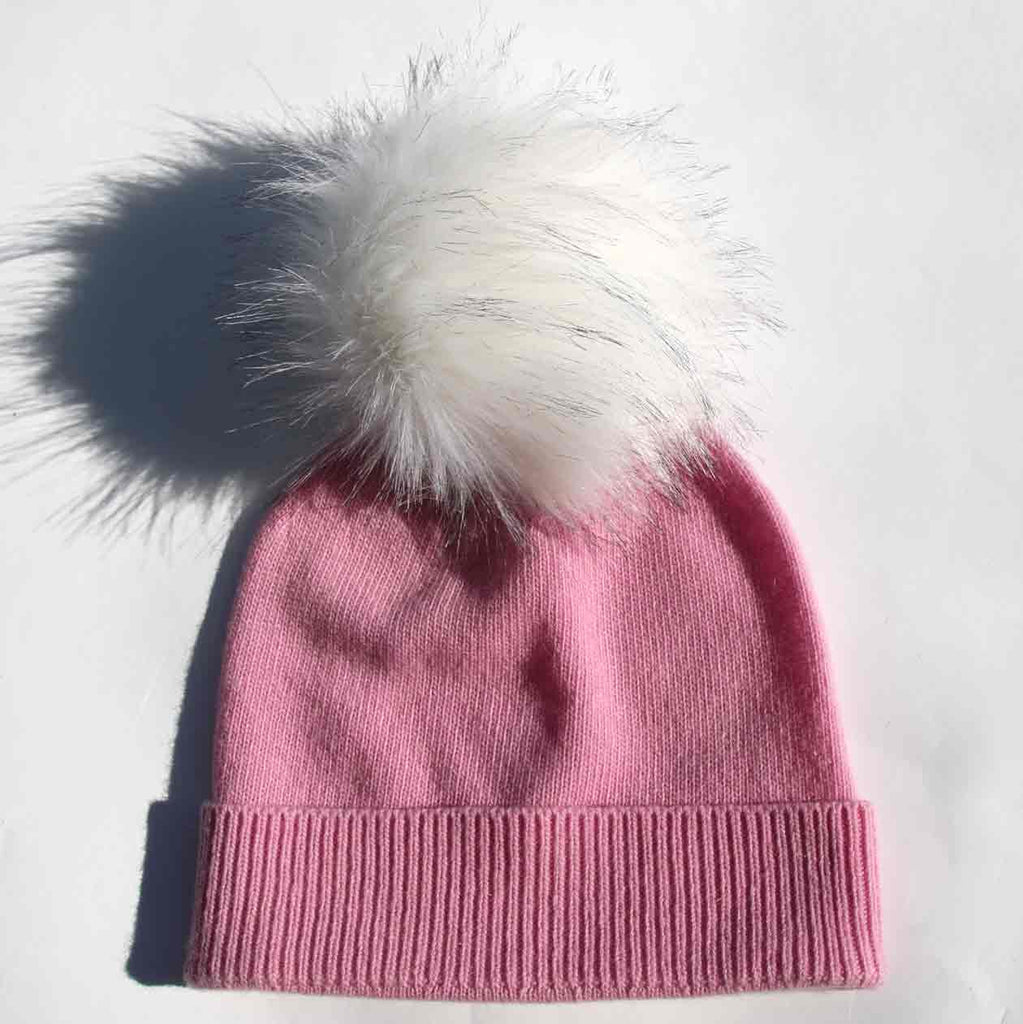 Pink Hat with Faux Fur Pom Pom/Multiple Colors Available
$ 59.00
Pink regenerated cashmere beanie with your choice of removable faux fur pom pom. 
Made in Italy 
BEANIE FIBER CONTENT:
75% Regenerated Cashmere
20% New Cashmere
5% Recycled Wool
POM POM:
Faux fur

Cleaning your cashmere beanie: Dry cleaning is recommended but you can also hand wash the beanie in warm water with a gentle detergent after removing the faux fur pom pom. To dry the cashmere beanie, gently roll it into a towel to remove most of the water then lay it flat on top of a dry towel in it's natural shape and allow it to air dry. 
ABOUT OUR REGENERATED CASHMERE:  A small mill in Tuscany, Italy carefully recycles high quality cashmere sweaters that are no longer being worn due to tears, missing buttons or outdated styles. Trained artisans carefully shred the sweaters back into fiber form before the fibers are dyed into new colors and spun into yarn for the new regenerated sweaters. Once the yarn is on the cones, they are sent to a small factory to be knit into sweaters. While the process is typically more time consuming than using new cashmere, we strongly believe in the value of using already existing fibers.
WHY WEAR REGENERATED CASHMERE?: Producing new cashmere is causing significant damage to local wildlife, the environment and the grasslands that are being used to raise cashmere goats, especially in Mongolia and China. Large grasslands are turning into dry deserts due to cashmere goat herds eating natural vegetation much quicker than it can grow back. By choosing a well made garment made mostly out of recycled fibers, you are helping to reduce the the strain that new cashmere and wool fibers have on limited natural resources. In addition, you are contributing to the reduction of clothing that needlessly ends up in landfills.