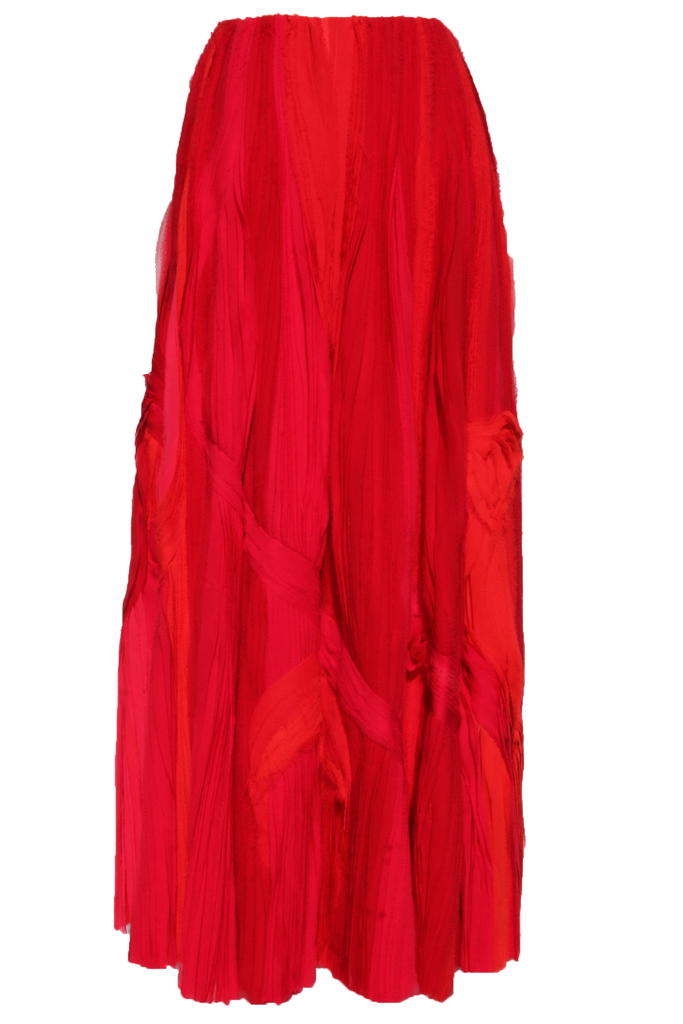 Painterly Bias Silk Chiffon Skirt / Custom Color Choice Available
$ 3,500.00
Kate Stoltz NYC mid length red and fuchsia skirt. Created by sewing  100% silk chiffon dark pink, magenta, fuchsia and lipstick red bias strips approximately 3/8 inch apart in an abstract painterly pattern onto a silk chiffon base.
In this project, the skirt is used as as canvas, using 1.5 inch strips of bias silk chiffon silk as the paint. Using a map as a guide, the 1.5 inch bias strips were sewn on one by one, filling in the skirt with a vibrant and cheerful expression of color.
Lined with 100% silk charmeuse
Include your waist measurement where you want the skirt to sit for a custom fit.
Contact katestoltznyc@gmail.com for a made to measure skirt in your size, or with inquiries about how to order a skirt made with your personal colors and design.
100% silk 

Allow 4 to 6 weeks for production. Each skirt is made to order and requires a significant amount of time for preparing the skirt map, cutting the silk chiffon into 1.5 inch wide bias strips, sewing the silk onto the base then removing the map once the skirt is completed. 
Made in house by local artisans that are fairly compensated for their labor.