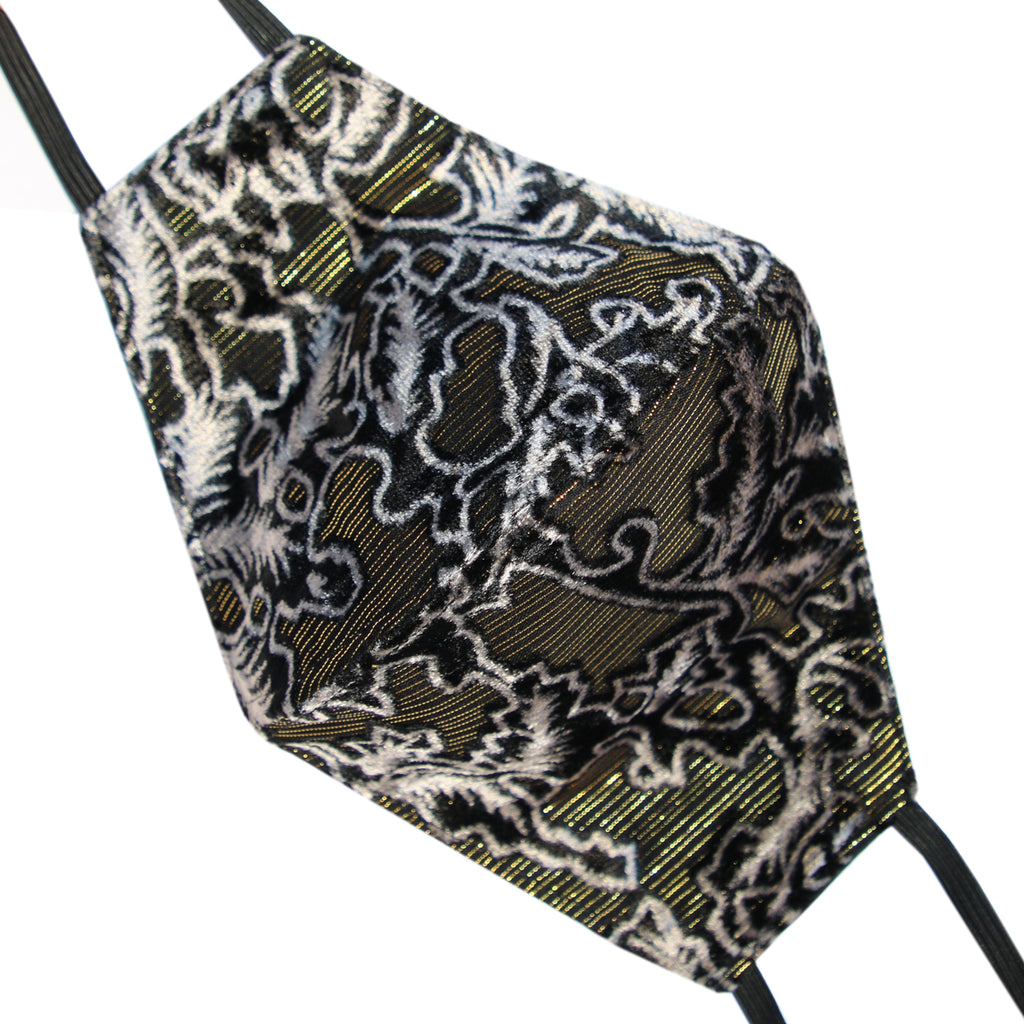 Regency Burnout Velvet Mask
$ 19.99
White and black floral burnout velvet over gold striped black regency mask. Burnout velvet over 2 layers of black 100 percent cotton mask. Available with or without filter pocket and nose wire.

-Ergonomic fit for comfort
-Double cotton layers
-Adjustable 1/4 inch high quality braided elastic ear loops for maximum durability
-Finished with 1/8 inch top stitch
-Made to order in the USA
-All workers are paid fair wages for labor

Ships within 3 to 5 business days

Strings: 3/8" wide satin, 15" long OR white elastic loops with plastic adjustable toggles for ears

Made in the United States

Textiles used:

100% Cotton
Trimmings used:

100% Polyester Satin Ribbon or elastic
CARE: You should wash the face mask after every exposure to the public use as the exterior can become contaminated. Hand-wash the mask in warm water with a minimum temperature of 90F (32C) and detergent, then hang to dry. For machine wash use, place the mask in a lingerie bag and wash with the delicate cycle, then hang to dry. Bleach is not recommended and will ruin the color of the mask. If the weather permits, hang it in the sun for an hour. Wash your hands for 30 seconds after removing the mask.

After washing, you can iron on low setting. It is recommended to use a silk fabric scrap between mask and iron as this will help lengthen the life cycle of the fibers.

DISCLAIMER: This is not a medical mask and is only to be used as an extra precautionary measure in addition to hand washing and refraining from touching your face as recommended by the CDC. Kate Stoltz masks are not proven to prevent contracting or spreading Covid-19.